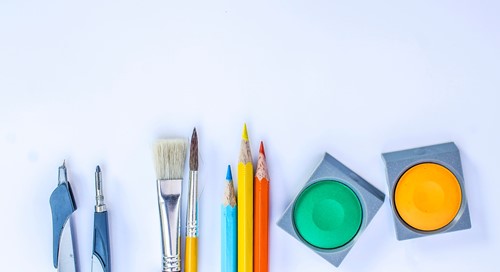 Spring is the season of renewal, and it's the perfect time to get a fresh start. Whether your home needs some updated decor or you are looking for a new hobby to help you pass away those April showers, you may want to think about taking on a craft project this spring.
Here are a few unique spring craft ideas for adults:
Wood Slice Bunny Rabbit Decorations
If you have some leftover firewood after a long and cold winter, you can put some of those logs to use with a springtime craft. You can slice various pieces of wood in order to craft bunny decorations that are both seasonal and cheerful. Full circular and oval logs can be used for the bunny's tummy and head, while slices cut in half can be creatively placed to become ears and feet. Finish off the craft with a pastel colored bow, and you can instantly bring spring inside your home with this piece of festive decor.
Cup and Saucer Bird Feeders
Some of the best things to craft during the springtime are outdoor decor items such as bird feeders. Not only are bird feeders a decorative element for your yard, but they also help take care of the birds who call your neighborhood home. One of the simplest springtime crafts is the cup and saucer bird feeder. You can use an old tea cup and saucer to craft a unique bird feeding station. Simply turn the cup on its side and use a strong glue to attach it to its saucer. A large piece of twine can be tied around the cup handle, and once it's dry you can hang this creation in your yard to feed the birds.
Painted Fairy Garden Accents
If you are looking to expand upon your fairy garden this year, you may be interested in making your own pieces. You can purchase unfinished ceramic fairy garden miniatures, and paint them yourself for a fast and fun springtime craft. This allows you to add a personal touch to your fairy garden.
Floral Mason Jar Centerpieces
The beautiful blooms of spring are breathtaking, but unfortunately they don't last for long. In order to bring spring into your home on a permanent basis, you can consider creating your own floral mason jar centerpieces. This craft requires you to get an old wooden packing crate, a few empty mason jars and some silk flowers. You can paint the wooden packing crate to match your table decor. Then, place the silk flowers in the mason jars and arrange the filled jars on the inside of the packing crate. Some people add decorative elements to the mason jars such as a simple ribbon in an accent color.
Seed Packet Wreath
Instead of a traditional flower wreath for spring you can create a unique seed packet wreath. To create this wreath, use a foam wreath as your base. Then, attach about a dozen seed packets to the foam with a straight pin. You will instantly have a wreath that you can customize with your own details such as silk flower accents or ribbon tied around the top of the wreath.
There is a lot to celebrate when springtime arrives. Now you can also celebrate the arrival of spring with a completed craft to decorate your home or garden.