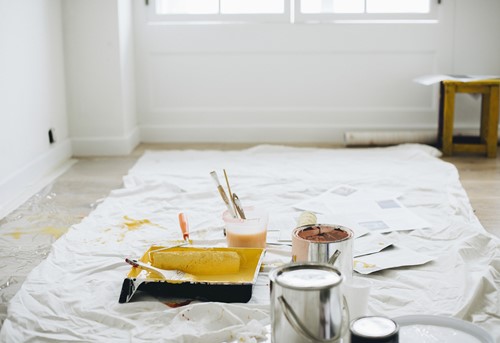 It may be tempting to call an expert (and sometimes, you can't avoid doing so) to fix something or to enhance the decor of your home, but some projects are surprisingly easy to do. Tackling DIY projects at home has never been easier, thanks to the availability of tools and products designed just for homeowners. You won't have to pay contractor's rates -- and can have a custom look you'll love -- when you try one or more of these projects.
Upgrade your Shower: Get an immediate boost to your shower when you swap out the old shower head for something new. Removing the old head and adding a fancy new one -- whether you want something adjustable or a spa-worthy rain shower. You won't need many tools and can remove the old head, clean things up, then add the new one in about an hour. You'll love the satisfaction that comes from doing this yourself, and be able to buy a more expensive shower head without blowing your budget, too.
Paint a Room: Leave the cathedral ceilings and complicated spaces to a pro, but if you just need a quick color change in a bedroom, you can generally DIY it for about a quarter of the cost of hiring someone to do it. Expect to spend several hours over the course of the weekend and invest the savings into quality equipment and paint you'll never have to touch up or worry about.
Prepare the Garden: Shoveling out a 10x10 space sounds less than appealing to most of us, but you can rent a tiller from a local home improvement store and DIY this space in under an hour. You'll be able to focus instead on the planning and planting -- not the grueling digging -- when you take this approach. If you can push a lawnmower, you can use a tiller to prepare any area for planting in a hurry.
Assemble Furniture: You can hire someone to do it, or pay a fee for the store to assemble things, but if you have some spare time and a few tools, most items can go together very swiftly. Use the time to binge watch a new program and DIY the assembly. You'll save money and get the satisfaction that comes from knowing you can do things yourself.
Powerwash: There are many powerwasher brands on the market today that offer a lot of cleaning for a small price. A contractor could charge you hundreds of dollars each time you need the service, or you can spend about a hundred one time and get a unit of your own. These smaller, more compact models still pack plenty of punch and can be used for decks, porches, patios and on your home itself with ease.
Simple projects like these build your skills and your inventory of supplies and tools. If you have a project in mind that can be safely done, it is worth exploring your DIY options -- you could end up leanring something new and creating a finished look you'll love.