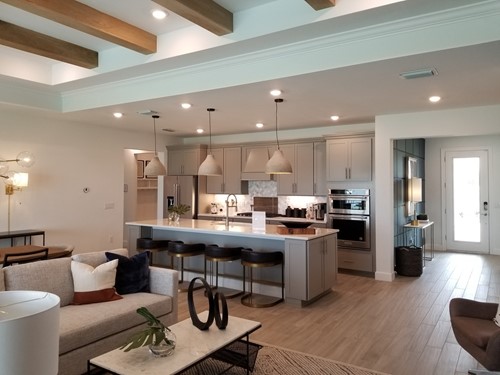 There are plenty of things you can do to potentially boost the profits of your home sale, such as tackling repairs and renovations. One thing you may also want to consider is hiring a professional to stage your home.
What is Professional Staging?
When a home is staged, a professional comes in and decorates/furnishes the home to make it more appealing to potential buyers. This typically involves removing all the current contents of the home, such as existing furniture and decor. From there, a stager brings in their own furnishings and basic decor.
Benefits of Professional Staging
A stager will arrange furniture and decor in such a way that it brings out the best qualities of each room in your home. This can help potential buyers see the full potential of each room in your home whether they visit for an in-person showing, look at photos of your listing online or take a virtual tour with an agent.
Staging has also been shown to result in faster and more profitable sales.
Choosing a Staging Company
The cost to stage a home can vary greatly depending on the company you choose and the region where you live. However, you can generally expect to spend between $300 and $600 for an initial consultation, followed by a flat monthly fee of around $600 (depending on your region) until your property sells. However, when you consider how much more money you can make off of a staged home compared to an unstaged home, this investment may quickly become worth it.
As you shop around for a professional staging company, be sure to look at a portfolio of each stager's work. This will give you a better feel for their sense of style and interior design. You'll also want to inquire about pricing and find out exactly what's included in your staging fee versus what may cost extra (such as staging of outdoor areas).
Having your home staged is a great way to sell your home faster and for more money, so consider adding this to your list of things to do before you sell!