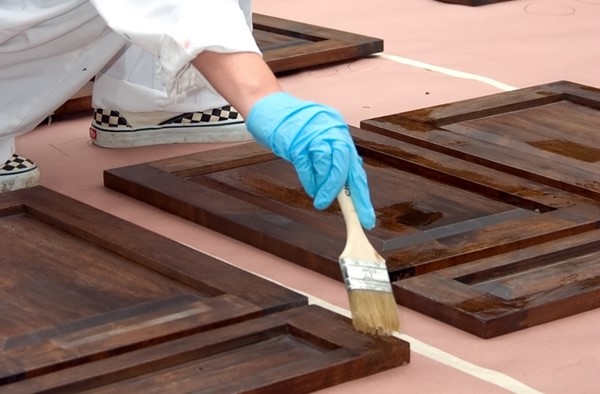 So, the new home has the perfect yard, layout, number of bathrooms, even the right roofline, but you hate the bathroom or kitchen cabinets. Don't give up just yet. You have some options to update your cabinets without completely tearing apart and replacing the kitchen, and you can even skip sanding them down. Welcome to the miracle of "Chalk Paint."
What is "Chalk Paint"?
The original and only paint really called "chalk paint" was created and trademarked by Annie Sloane. Its widely recognized as a top choice by furniture and cabinet professionals. This original pain allows you to get that "shabby chic" look on furniture and cabinets without refinishing them first. Its major downside is the price. To get the name brand "Annie Sloan Chalk Paint" (ASCP), you will be out nearly forty dollars a quart.
This paint is actually a mixture of paint with other chalky substances like powdered gypsum (plaster of Paris) and allows you to refinish a cabinet without sanding or priming it first. After painting, your cabinets or furniture will have a chalky finish until you complete the process by finishing applying a high-grade wax that leaves the cabinets with a softly glowing finish.
Does it Work?
The developers of the process absolutely swear by it, and they've drawn a large group of devotees. You can find a useful variety of tutorials online including everything from heavily weathered to mildly distressed or even completely smooth. You aren't just stuck with the original brand though. The popularity of the process has given rise to several other name brand options including CeCe Caldwell's non-toxic natural mineral pigments. A big plus for CeCe's paints is their eco-friendly ingredients that are especially safe for pets and children.
How About an Affordable Alternative?
Wary of the paint cost? You have multiple options there as well. You can make any latex paint a chalk-style paint by using Webster's chalky paint powder. They offer a wide range of tutorials and instructions to create different accents and layering effects. This combo paint can even work for painting on metal! If you want the ease of a single product, check out your local home improvement or paint store for some less expensive options. Professionals have experienced a wide range of results with these paints, so do your research and test on a single cabinet or door before you do the whole kitchen.
If you're worried about the kitchen in the home of your dreams or worried about your kitchen bringing down the cost of your home, talk to your real estate agent about the best kitchen options for your home.