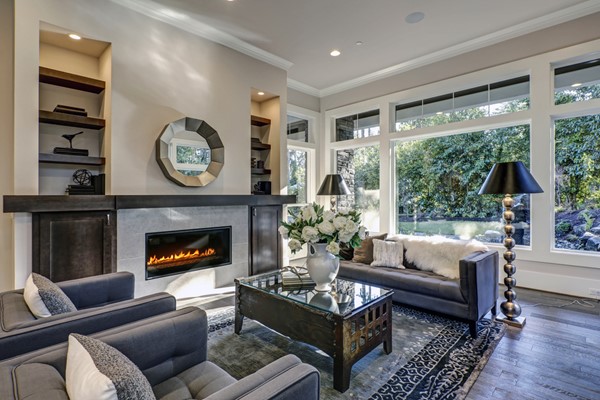 If you're a lover of high-style interiors, this article is for you! The most beautiful interiors of the world are distinguished not only by their external designs but also by the structure and decoration of their interior spaces. The modern luxury living room has some basic principles:
Furniture
- This type of living room is often furnished with rare pieces of furniture, made of high-quality materials;
- You can combine classic furniture with modern furniture. Bet on designer armchairs in flashy colors to create the surprise of an antique vibe!
- Baroque furniture adds a lot of style to your living room;
- Varnished wood, with a matte or glossy finish, is a chic element of your decor;
- Install a large mirror, with an ornate frame. You can put the mirror on the floor and lean against a piece of furniture that serves as a space separator. 
Ceiling
- Choose metal fixtures in gold, silver, and bronze. For a more glamorous look, go for massive chandeliers with crystal pendants or Swarovski crystal decorations.
- Baroque ambiances with massive chandeliers are classic solutions for the modern luxury living room. If you have a tall ceiling, install a large central light and lamp in blown glass or patterned porcelain.
- Light plays a role in achieving an elegant interior! And the lighting design is fundamental. Arrange the luminous bodies to create a unique and sought-after atmosphere. Seen in some areas, bright in others, colored above a statuette or a piece of art.
- The plaster friezes and ornaments are elements of refined luxury decor. Rosettes are widely used in vintage luxurious interiors.
- Think of cornices and curbs, as options for decorating your ceiling;
- False beams have been used extensively in recent years to enhance a salon style for the home interior.
Floor
You can choose marble in black and white, pink or ivory for the luxury interior floors. Another refined variant is the tiles with color combinations that give a touch of elegance to the flooring. This solution is ideal, especially if your interior lacks color, or if the colors are mainly darker. You can dress the floor of your living room with a beautiful carpet or shag rug, placed on the floor. 
Setting up a full luxury living room comes with a price tag, so it might be more prudent to find a balance between expensive and cheaper items. Talk to your interior decorator to find the best pieces within your budget.