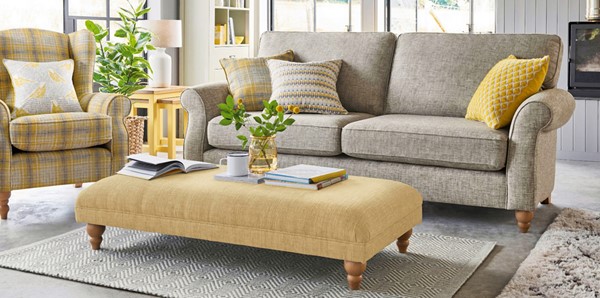 A coffee table is a bit trickier to decorate than a dining table, but with some expert tips, your coffee table is just a few minutes from being perfect. Here are some styling tips for a coffee table to consider next time you are touching up the interior decor in your home:
Stack up your books 
Coffee tables and books go together like peanut butter and jelly. Stack up books of same sizes on your table, but be careful not to make a pile or mountain of books. Four or five books arranged together are just perfect. The key about book stacking is the color coordination - gather books in different shades of one color for a clean look. 
Add a tray 
Second only to books, trays are a designer's go-to when styling coffee tables. Trays help to corral tabletop items, but they also send a sense of organization to your guests and make mini-vignettes that beautify your home. You can fill the tray on your coffee table with a scented candle or a bouquet of flowers.
Decorate with plants 
You can make your living room clean and organic by decorating your coffee table with plants. Succulents and air plants are the perfect choices, but the key is to choose a plant that thrives in low light. 
Balance height 
To prevent your coffee table from looking weighted, it is best you put the tallest item in the center. If you have one short and two tall pieces, put the short in the middle and balance either side with any of the taller items.
Display different pages 
You can give you coffee table a different look every day by choosing to display different pages of a book. Consider contents of the page as well as the colors. Colorful magazines are an excellent choice as they are engaging to guests.
Simple right? Designing a coffee table is not as hard as you think. If you don't have it in your home, it is high time you think of getting one and using it to enhance your home style.
When prepping your home for sale, ask your selling agent for appropriate items to display on your coffee table.